We Like to Par­ty.
Par­ty Team Extreme — a buck­et list of the most unique par­ties around the world. Do you have what it takes?
Par­ty City — the place where you can buy Par­ty
Par­ty Rock — a term coined by LMFAO. They also make (rad­i­cal) clothes under this brand name.
http://www.youtube.com/watch?v=ua3Z7RBTk00
Par­ty Infla­tion — when par­ty­ing becomes a way of life you start say­ing "par­ty" a lot. If the first thing you say in the morn­ing is "par­ty" then you might be a par­ty­holic. If you par­ty all the time then par­ty­ing is going to become less valu­able (it's eco­nom­ics, baby) and this is the def­i­n­i­tion of par­ty infla­tion.
http://www.youtube.com/watch?v=GpTC520I_Kk
Par­ty Fin­ger — point your fin­ger up in the air, and wig­gle it around like you just don't care. Also put a smi­ley face on it with a pen or mark­er so when you point at the cam­era your fin­ger is par­ty­ing too. Where will it go next‽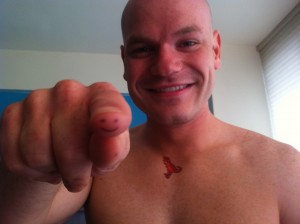 The Noto­ri­ous Par­ty Boy Sound­track
Par­ty Foul — spilling a drink at a par­ty or doing any­thing else that is un-party.
Par­ty Hard — also the name of a song by Andrew WK, the self-proclaimed "king of par­ty­ing".
And then I said, "Let there be par­ty," and there was par­ty, and it was hard.

— ANDREW W.K. (@AndrewWK) Novem­ber 1, 2011
You should prob­a­bly read the VICE guide to par­ty­ing — it's fun­ny (and NSFW).
Par­ty Cat is a web­com­ic mini-series about the dan­gers of par­ty­ing with cats.
Well, I hope this was infor­ma­tive for you.
Think you know how to par­ty hard? Check out the list for Par­ty Team Extreme