If you don't know, now you have no excuse.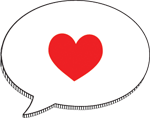 I get almost all of my new music from The Hype Machine. Try checking out the Popular page, or you can just listen to everything I like.
Register your account, and you can listen for as long as you like, as well as get your own fancy-pants music feed delivering music that you like, right to your face.
Enjoy!
Top Secret P.S. If you click "read full post" under any songs you can like, there's a good chance you can download them from the originating music blog.
Disclaimer: if you like the music, buy it and support the artists!